Custom of Silkworm Flowers
Silk is abundant in Hangjiahu Plain. Silkworm rearing is the main industry of farmers in this area. Wuzhen is located in the important place of Hangjiahu Plain. Silkworm industry accounts for a large proportion. The quality of silkworm flowers is directly related to farmers' income and their life of the whole year. For important things, people will set up some taboos. Many habits also change with it, and even entertainment cannot do without it. And then a series of customs and habits about silkworm flowers have been passed on in Wuzhen.
[Praise Silkworm Flower]
On the eve of sericulture every spring, some folk artists often carry bamboo baskets to houses of silkworm farmers with a non-toxic yellow python in it, singing: "Dragon arrives, and silkworms will be good. It came last year and this year it comes too…" While singing, they will take the yellow python out of the baskets and place it in the halls of silkworm farmhouse houses, letting it move freely. And take it back when the song is finished Silkworm farmers thank them with silk or rice. This is "praising silkworm", which can lead to a good harvest of silkworms.
[Mulberry Silk Wadding]
In old times, when silkworm farmers had new babies, there was a custom to make cotton-padded clothes with mulberry silk wadding. It is also used when the elderly in the family pass away. The younger generations often use several silk waddings. They are covered by the couple after pulling them loose layer by layer on the deceased, and finally left one or two layers of silk wadding. The old saying goes that children would be healthy and disease-free when wearing cotton-padded clothes made from mulberry silk wadding.
[Look at the Hill]
When silkworms begin to climb grass dragon for cocooning (silkworm farmers call it "climbing the mountain"), silkworm farmers who recently have daughters gotten married would prepare pork, yellow croaker, glutinous rice cakes, loquat and other gifts to witness such situation at their daughters' homes, commonly known as "looking at the hill".
"Looking at the hill" originated from a small story. There was a silkworm farmer who got a new daughter-in-law who did not know how to raise silkworms, but the daughter-in-law was smart and clever, and raised silkworm babies while learning. She turned out to raise silkworm babies very well and safely sent them up to mountain. At this time, her father came to visit his daughter. He had never raised or seen silkworms. He was curious and came to the silkworm house. As soon as he saw it, he was lost in thought and even forgot to close the window when he left. After the silkworm owner came back, he saw the silkworm babies was in the open air and was worried that this year the silkworm would be dead. Unexpectedly, on the harvest day, the owner entered the silkworm house and saw a cluster of snow-white cocoons all over the mountain. The harvest was better than that of any other families in the same village. The villagers concluded that his silkworm flowers were so good because his relative by marriage came to visit him. So there is the custom of "looking at the hill".
[Silkworm Flower Festival]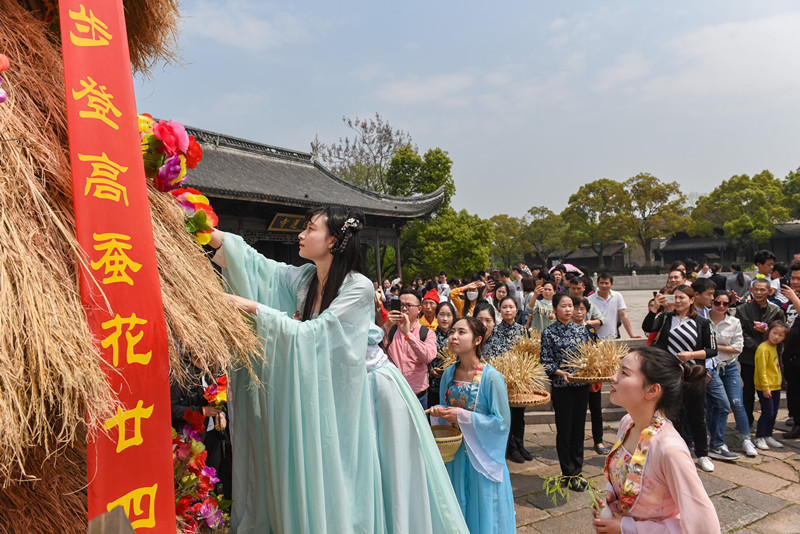 Every year during the Qingming Festival, silkworm villages will hold a Silkworm Flower Festival. On these silk-feeding festivals, the female farmers wander about the temple fair with silkworm flowers made of paper or spun silk, and pray to bring back the luck of silkworm flowers. This is the Silkworm Flower Festival. At first, everyone came to burn incense, and have fun, and then the event slowly developed into an extraordinarily lively temple fair, with a gathering of vendors, and vaudeville performers. It is also known as "Zha Can Hua". This custom continues up to now. During the festival, some collisions between young men and women are allowed. Now, some young people are looking for their love by taking this opportunity, and the meaning of this festival has been expanded.
[Sericulture Taboo]
No strangers are allowed to enter silkworm houses: The main reason is that strangers may bring bad luck and affect the growth of silkworms. Some farmer will put a note on the door saying "Silkworm Month No Entry", or put a carrying pole with peach branches at the door for warning.
No oil, smoke and noise: Silkworm houses should be absolutely quiet and clean.
Prohibit unlucky languages: During silkworm rearing, many expression ways have to be changed. For example, "Fourth Sleep (Si Mian)" should be changed to "Big Sleep (Da Mian)", because "Si" has the same pronunciation with the word of death. "Green Onion (Cong)" was changed to "Xiang Tou" for fear that silkworm babies would be washed away (sounding like "Chong" in Chinese). "Sauce (Jiang)" should be replaced by "salty and sour (Xian Suan)" for fear that silkworm babies will get "stiff (the same pronunciation as Jiang)" disease. "Bamboo shoots (Sun)" have to be changed to "radish (Luo Bo)" for fear that silkworm babies will be "damaged (also sounding like Sun)".
It is forbidden to build empty shed: Silkworms go up to the hill shed to cocoon after fourth sleep. This hill shed cannot be erected until the silkworm grows up. If not, it is called "build empty shed", which is unlucky. It is forbidden to be naked when building a hill shed.
[Boxing Boat and Boat Boxing]

The Boxing boat has been moored on the water all the year round. In the sound of gongs and drums, there will be martial Martial art masters on board wearing training clothes, holding weapons, and fighting with each other. This is Wuzhen's traditional folk program- Boxing Boat.
Boxing boat, also known as Boat Boxing, is said to have been popular in the Taihu Lake Reign since the Southern Song Dynasty. In the old days, Wuzhen water system was developed, and there were many robbers in Taihu Lake. The government was too weak to eliminate robbers and could not guarantee the safety of local people. Therefore, boatmen and fishermen arm themselves with weapons, employ martial art masters and practice martial arts publicly. It is conducive to strengthening themselves, and guarding against Lake robbers. Gradually, it was developed into boxing boat. Today, the martial art performance boat has no utility of repelling robbers, but practicing martial art on the boat as a traditional activity is still retained till now.
Wuzhen's boxing boat have been handed down for five generations. The source of Wuzhen's martial art is Shaolin North School. There are more than 50 routines such as Shaolin Boxing, Shaolin Stick Bench Boxing and so on. Boxers perform with various weapons on the boat every day to promote the purpose of "meeting friends with martial art and strengthening the body". They also provide a local martial art feast for tourists from all directions in Wuzhen.
[High Pole Boat]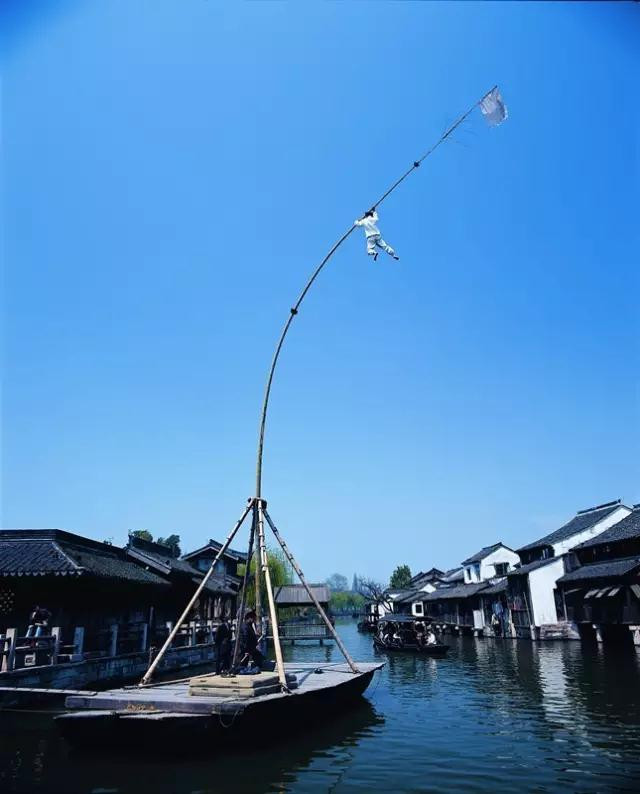 It is a form of entertainment related to silkworm custom, and also a unique local folk sport. In the middle of the boat moored on the river was a huge stone mortar with a huge bamboo stuck in it. There are four short Bamboos under the bamboo to be fixed in four directions, and there are several strong men to assist in controlling the main pole during the performance. When the performer climbs up the top of the bamboo pole, the bamboo bends into a 90-degree arc, shaking under the influence of human weight, which also makes the viewers' hearts beat quickly. The performers of tall pole boats usually wear white clothes, symbolizing the image of silkworm babies. The performances forms include "golden monkeys looking at the moon", "pigeons turning over", "upside-down dragonflies", "hanging with one arm and so on. Their performance is exciting.

In the past, local people could watch the shows of boxing boat and high pole boat only in the slack season before and after the Qingming Festival. Now, in order to let tourists appreciate the scenery of the south of the Yangtze River, every day you can see the wonderful performances of passing people between poles on the river of East Scenic Zone if the weather is good.

Keyword: Customs,Silkworm Flower Festival
---