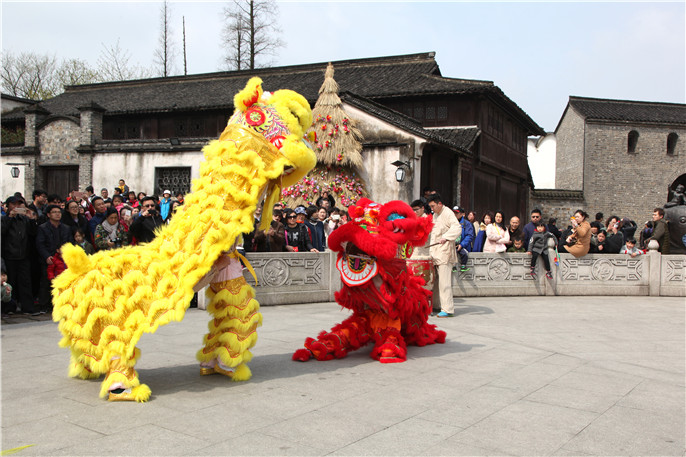 Praised by Mao Dun, one of China's most distinguished modern writers, as "the rural carnival of China," the incense bazaar has a long history in Wuzhen. It begins every year during the Qingming Festival (around April 5th) and lasts about a fortnight. On Qingming, people gather for a "silk cocoon peeling" temple fair at Han Mountain, 20 km southwest of Wuzhen. After the fair, attendees rush to Wuzhen and the incense bazaar begins.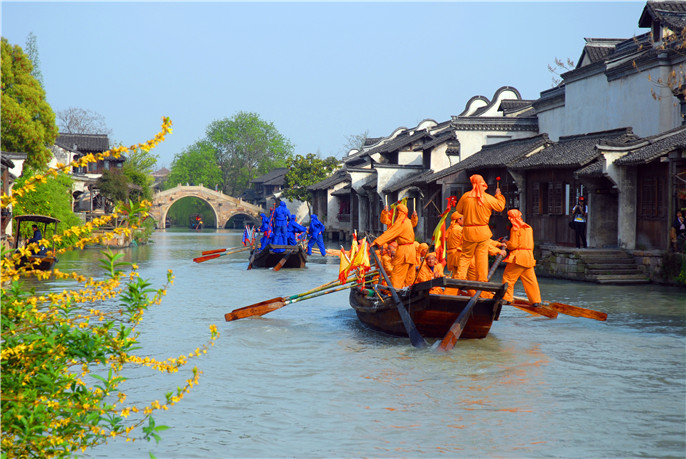 Most of the people attending the incense bazaar are farmers. They come both to enjoy the warmth of spring and also to sell homemade items, such as bamboo handicrafts, silk-raising tools and farming products. As the predominant task of the local farmers is to raise silk worms, their livelihood depends largely on the health of those worms. This explains why the custom of praying for silk worms exists. During the incense bazaar, local women have a duty to cleanse their hands before the temple as a prayer for the health of the worms.
The incense bazaar is held during the Qingming Festival for good reason. This is a time when the silk farmers are free just before raising silk worms begins again. With wonderful weather and time to relax, it is the perfect opportunity to come out and enjoy oneself.
The survival of the incense bazaar in Wuzhen may be partially attributed to the large number of temples here that attracted pilgrims on their way back from Hangzhou. There are three temples in Wuzhen that date back to the 8th century A.D. By the 9th century, there were more than thirty temples, and in the period between the 14th and the 19th centuries, there were at least forty temples, monasteries, and nunneries. As the number of temples increased, so did the number of pilgrims, and to service the pilgrims came merchants and performers. In this manner the incense bazaar became a fixture of life. Also, with large numbers of worshipers going to the famous West Lake incense bazaar in Hangzhou during the Qingming Festival every year, farmers from Suzhou, Wuxi, Changzhou, Jiaxing and Huzhou would pay homage as they came through Wuzhen. Passing back through on their way home, they would burn incense here again. With the flood of these "returning pilgrims" passing though, the local incense bazaar began to thrive.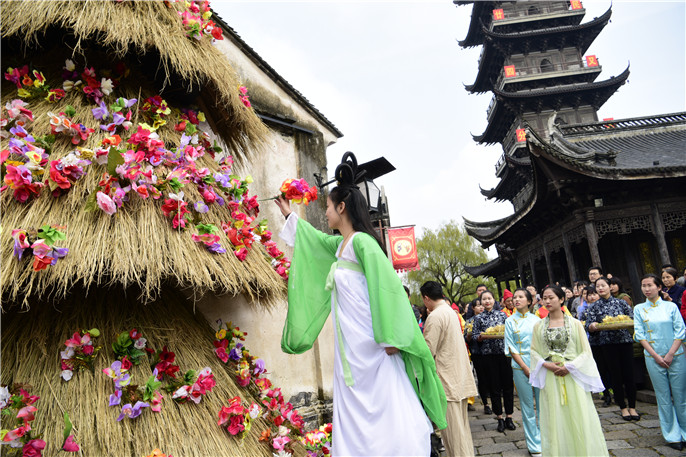 Today's incense bazaar has become the hallmark of local celebration for tourists to Wuzhen. With the solemn plague marshal meeting, the lively silk worm festival, the thrilling boat races, the breathtaking boat deck acrobatics, the intense boat boxing and many other activities, these unique and diverse folk arts continue to attract tourists from home and abroad. There are even those who chose to have their wedding ceremony here, which exemplifies the saying that "Wuzhen is heaven for lovers."

Keyword: Temple Fair
---