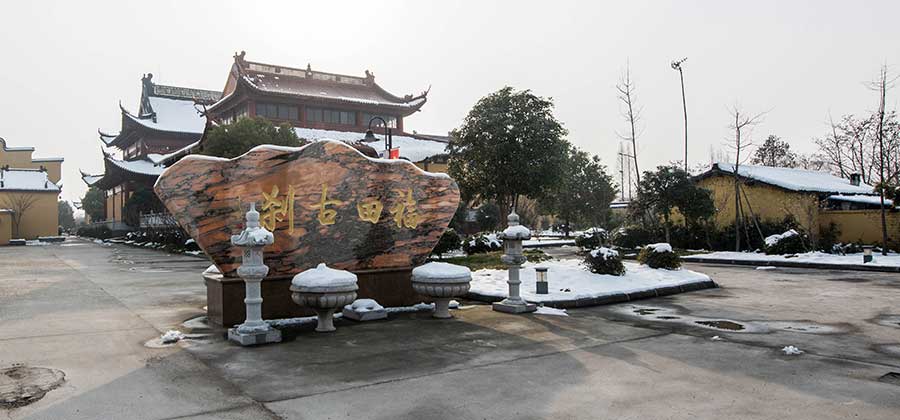 There is an ancient temple on Ciyun Road in Wuzhen, which is called Stone Buddha Temple and it also has the name of Futian Temple. There are three stone Buddhas in the temple. Each stone Buddha is more than five meters tall. They are carved from marble, with exquisite workmanship and vivid shape. They are fine work of stone carving art. Ancient people came here to visit, and left a lot of nice poems. Where did the stone Buddhas in this temple come from? The legends of these stone Buddhas are spreading among the people in Wuzhen.
According to legend, the Jade Emperor in heaven, knowing that there are two cities in the world, Suzhou and Hangzhou, with beautiful scenery, even better than heaven. So he decided to build one palace in each place for pleasure. One day, he sent four stone Buddhas from Hangzhou to Suzhou for a visit. The four stone Buddhas changed into the common people and boarded an incense-burning boat from Hangzhou to Suzhou. When the boat passed Wuzhen, the four stone Buddhas looked out of the cabin. They saw the rivers and ponds crisscrossing and the trees forming a row. The peach trees were in bloom and the willows were turning green, and the scenery was beautiful. The four stone Buddhas thought that Suzhou had arrived, so they sent one to go ashore first. When the boat arrived at Rihui Bridge in Xizha, Wuzhen, one Buddha said to the boatman, "I want to go ashore and have a rest. Please stop here for a moment." The boatman agreed and let the guest go ashore. As soon as the guest stepped on the ashore, the people on board felt relieved and the boat suddenly rose up several inches. The boatman said in surprise, "This passenger is so heavy that he looks like a stone Bodhisattva." Hardly had boatman's voice faded away, the guest on the shore was immobile immediately. And the three men who stayed on the boat realized that the boatman had just known the truth. They rushed to the shore and told the boatman that they would hurry to visit their friends. At that time, the incense-burning boat was much higher than before. The pilgrims on the boat speculated that the four men were immortal stone Bodhisattvas.
Soon, the man who standing at the Rihui Bridge was actually became a stone Buddha. The other three men also showed their original appearance and became three stone Buddhas while approaching the Fangsheng Bridge. After the news spread, people all said that Buddhas had fallen on fairyland and Wuzhen was a good place. In order to preserve this fairy land, people built a small temple for the first stone Buddha who came ashore at the Rihui Bridge. On the south side of the Fangsheng Bridge, they built a large temple for three stone Buddhas, naming it "Stone Buddha Temple". There was also a plaque hanging in the temple, which says "floating on the water".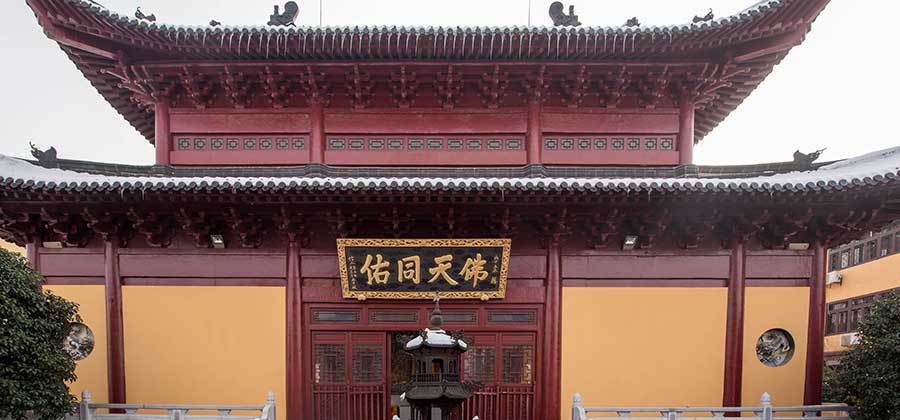 Since then, every year at the incense fair in spring, there are always many boys and girls worshipping in the temple. Especially those Suzhou and Changzhou pilgrims who came back from burning incense in Hangzhou always go ashore by boat when they pass Wuzhen to burn "Huitou incense" in Stone Buddha Temple. It is said that this was to apologize to stone Buddhas. Unfortunately, this ancient temple, together with its three stone Buddhas, was destroyed in Ten Years of Turmoil. When Mr. Mao Dun learned about the destruction of Wuzhen monuments such as the stone Buddha temple, he wrote in a poem to his hometown: "The past is fading, and historical experience should be remembered," expressing regret for the ruined monuments.

Now the three stone Buddhas are re-carved as their original appearance. One of them keeps the original statue at the lower part, which survived as it was built in the wall by a local.

Keyword: temple
---