It's the Mid-Autumn Festival when sweet-scented osmanthus flowers are blooming. This year, Mid-Autumn Festival is connected with National Day. We are going to have eight days' long vacation, which is the best time to travel. In order to celebrate the festival, Wu village has launched a series of activities called "Full Moon Mid-Autumn National Day Reunion". At that time, special activities such as traditional moon ceremony, 100 people's reunion dinner, privately ordered moon cakes, under-the-moon bonfire party, lantern riddles winning awards will be held in Wu village. This is a unique Mid-Autumn Festival for tourists.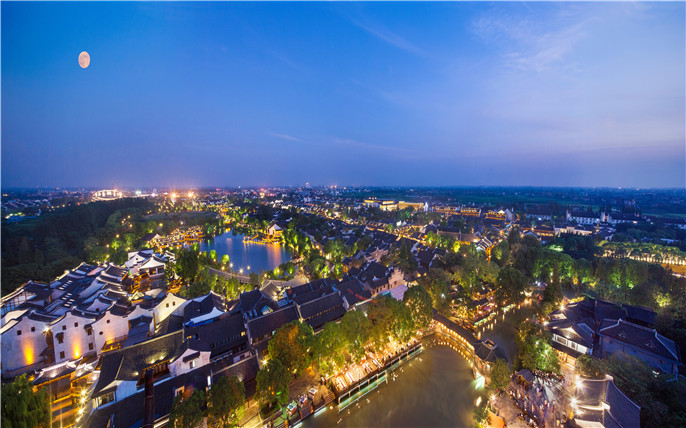 Sacrifice to the Moon·Old customs in Wu village, Wuzhen
During the Mid-Autumn Festival, it is an indispensable custom for Wuzhen people to sacrifice incense to the moon. As an international town, Wuzhen still has a heart to protect traditional culture. This year's ceremony will be held in Wu village.
Wu village is adjacent to Wuzhen West Scenic Spot and is close to Beijing-Hangzhou Grand Canal. The whole village has a series of facilities such as special accommodation, catering, entertainment, leisure activities and so on. It provides CCO friendly services. It is a high-end rural tourism resort built by "one price package" leisure resort village.
Compared with West Scenic Zone Wu village makes the sacrifice of the moon more traditional. Set tables for incense in the broad bonfire area of the village. The incense is made of cardboard bonded together with various colored flags and painted stories of the Moon Palace. After the ceremony, people will burn it outdoors to pray for a good harvest. In addition, there are moon cakes, fruits, taro, water chestnuts, beans and other supplies on the table. All fruits and vegetables are produced in Wu village. The ceremony was presided over by the elders. After the ceremony, the people can take water from the basin to wipe their eyes in order to pray for health. All visitors to Wu village have the opportunity to participate in this traditional sacrifice together and receive a blessing of well-being.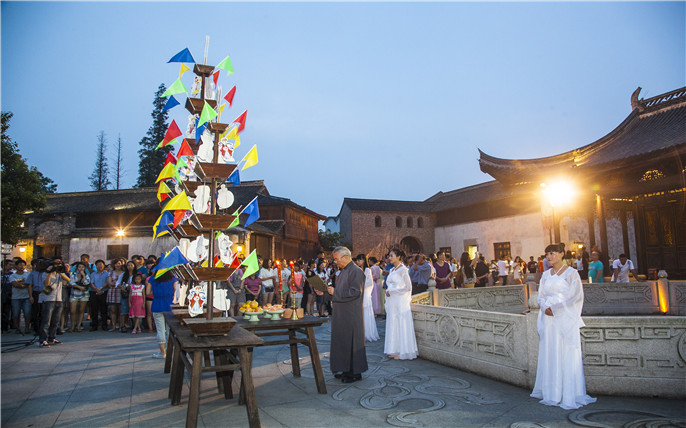 Dinner under the moon·people enjoy the moon and reunion
Since ancient times, when the Mid-Autumn Moon was full, people put out moon cakes and fruits on the courtyard or balcony. They can enjoy the moon and talk freely or drink alcohol at the same time. Nowadays, the place of reunion is no longer limited, and tourism has become a new trend during festivals. In order to make tourists feel the strong atmosphere of the traditional Mid-Autumn Festival when they are on holiday. This year Wu village has designed an outdoor reunion banquet to enjoy the festival.
As a rural resort, Wu village is surrounded by no high-rise buildings, no city lights, so the most round full moon can be seen as a result of a broad vision. More importantly, during the autumn harvest season, Wu village visitors can enjoy the freshest vegetables and fruits.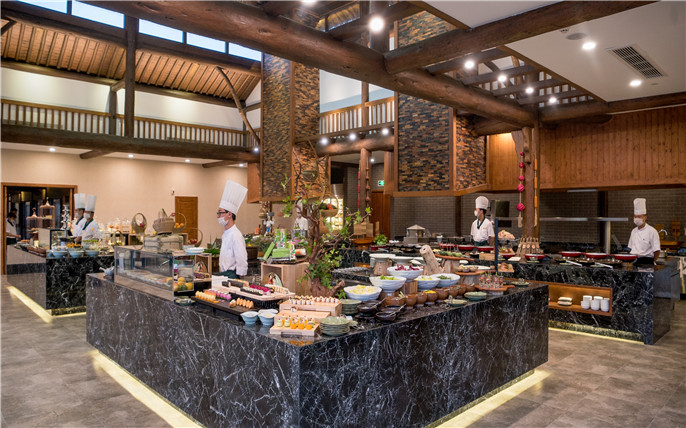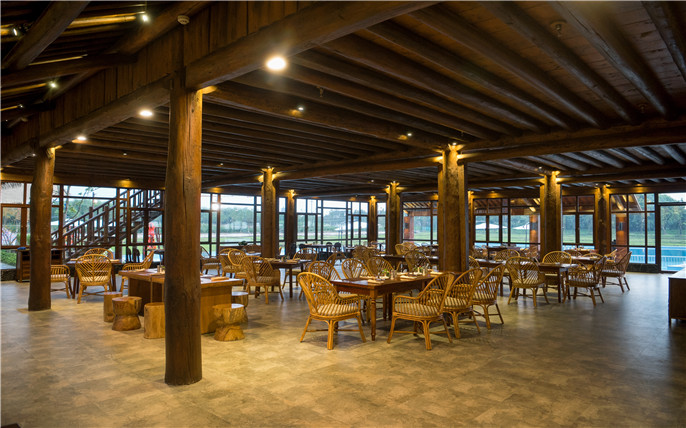 Privately ordered—make fresh meat moon cakes with your family
Moon cakes are the representatives of Mid-Autumn Festival. But for tourists, when they go out, they want to have a taste of local specialties. There are usually a lot of sweet-scented food like osmanthus rice cake, green dumplings, cat ear shaped rice cake, beef vermicelli soup and other "childhood taste", which are authentic local delicacies. On the occasion of the Mid-Autumn Festival, Wu village has launched a special fresh meat moon cake for the vast number of tourists. Throughout the National Day period, tourists who book a one-price package in Wu village can make moon cakes by themselves and with their families, and eat fresh and delicious "reunion" taste.
Bonfire party·singing and dancing to celebrate the harvest of autumn
Autumn is the harvest season. In old days, farmers sat around the campfire singing and dancing to celebrate the harvest. In this Mid-Autumn Festival, Wu village will return to this lively bonfire party. After dinner, we will gather and the enthusiastic CCO will sing and dance together with tourists in Wu village.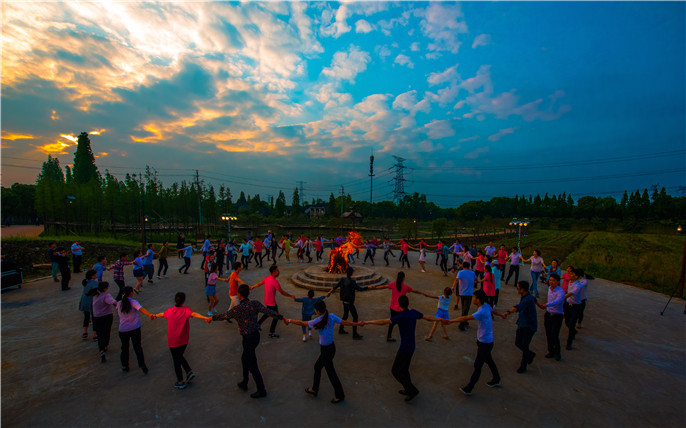 Prize lantern riddles and interesting gifts in Wu village
Guessing lantern riddles is a unique form of traditional folk culture and entertainment in ancient China. It is also an annual Mid-Autumn Festival event in Wuzhen. This year, more than 300 riddles will be hung in the tea house, market and other places in Wu village. Visitors who come to Wu village can participate. They can exchange prizes at shop if they guess correctly according to the riddles.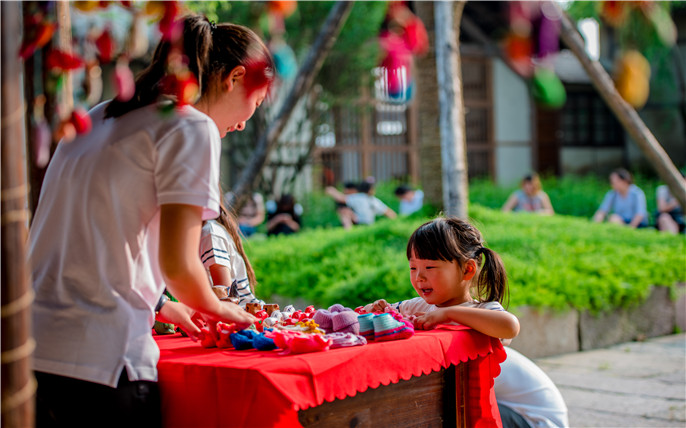 In Mid-Autumn Festival and National Day, bring your family to Wu village for a special vacation!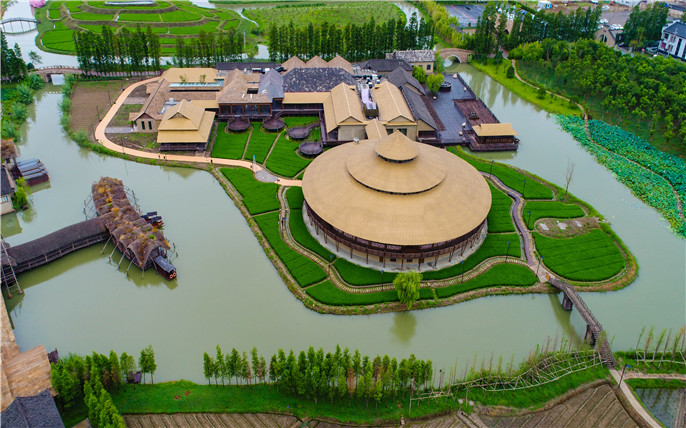 Keyword:Wuzhen West Scenic Zone, Mid-Autumn Festival
---