Ceremony for Silkworm Goddess
During each Tomb-sweeping Day, Wuzhen natives swarm into Silkworm Goddess Temple in Wuzhen West to offer sacrifice, light candles and burn incense. A senior delivers the Silkworm Goddess Ceremony Speech, praying for the blessing and harvest of cocoon.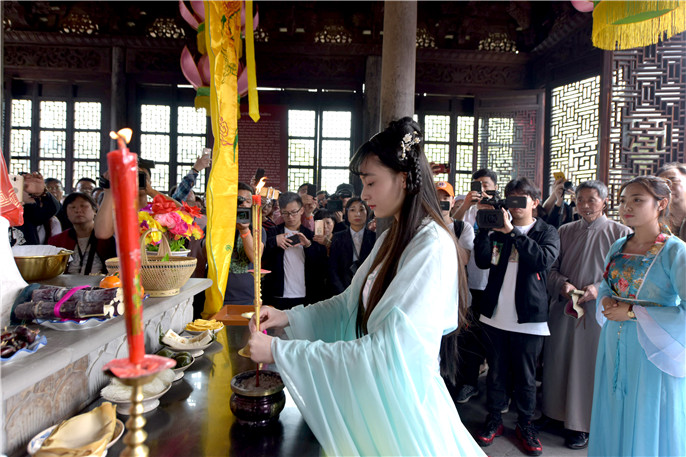 Silkworm Goddess Parade
There are many legends about silkworm ("Can" in Chinese) goddess. One is said that, Ji Xiang fairy, a maid of the queen of heaven, wanted to save the poor in the word. She changed into a silkworm and brought future to people. Due to her great sacrifice, people worshiped Ji Xiang fairy as goddess and built temple for her. Since then, people called silkworm as luck silkworm.
Every year, before silkworm breeding, people hold silkworm goddess parade in the street to pray for the harvest of cocoon.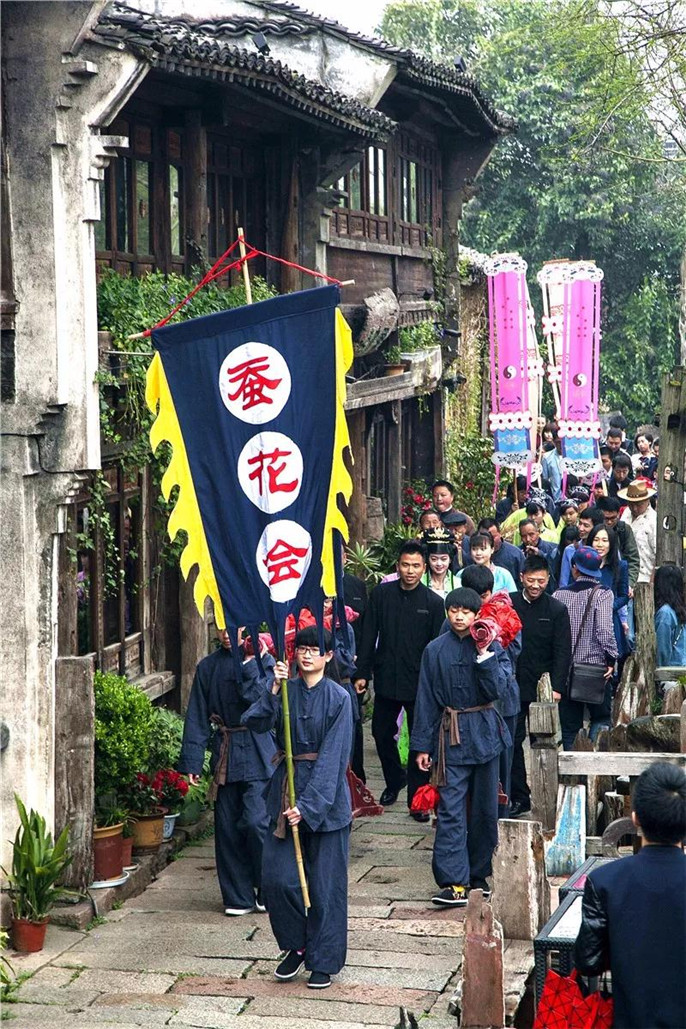 Scattering Silkworm Flower
Silkworm flower is a mascot for silkworm breeding farmers. During the temple fair, silkworm flowers will be scattered from White Lotus Pagoda and famers rush to pick up silkworm flowers and put them in hair, on silkworm beds, in silkworm raising rooms. Natives regard silkworm flower as silkworm goddess who will protect silkworms and a good harvest can be expected.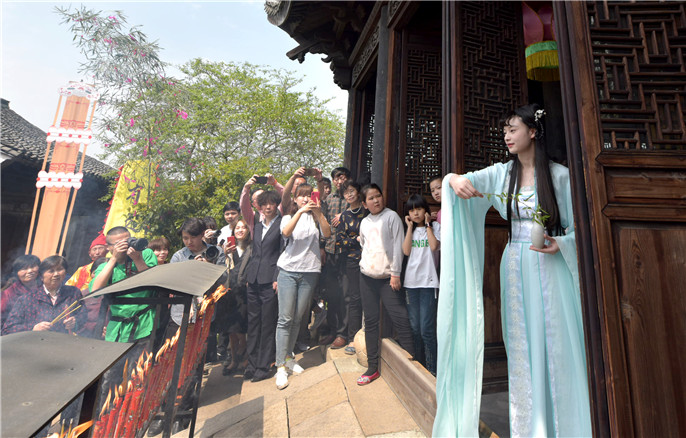 Silkworm Flower Arrangement
During Temple Fair, natives make a hill from bamboos and straws and then stick silkworm flowers into the hill as high as possible. Arrangement of silkworm flower is another form of worship silkworm goddess and also is an expectation of good harvest of cocoon.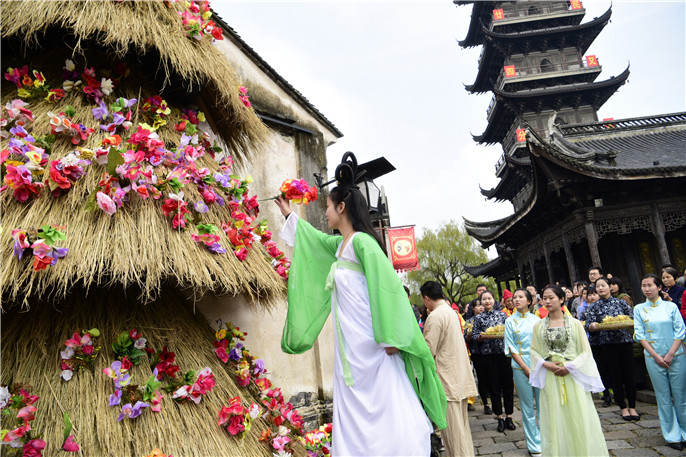 White Lotus Temple Fair
Wuzhen's temple fair is held around White Lotus Temple from Tomb Sweeping Festive lasing 20 days. It's a free time for farmers before silkworm breeding. Farmers and merchants sell their farm products, local specialties and flowers, craftsmen set up their stalls to show and sell their handicrafts and specialty snacks; folk artists establish a stage for singing, dance, and story-telling , clapper talk, etc. It's a carnival for ordinarily people.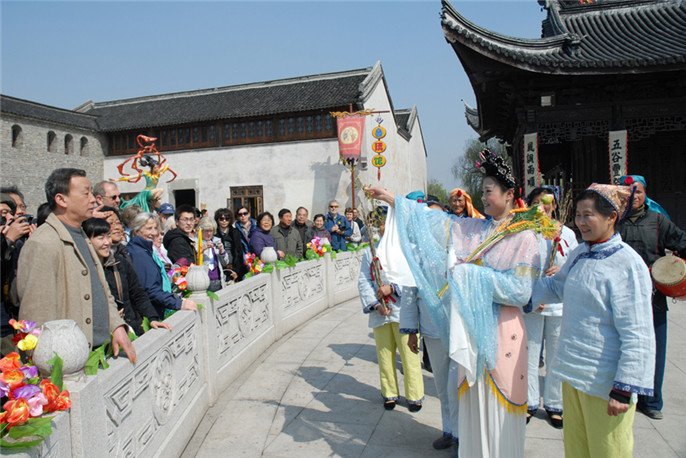 Bamboo Dance
Bamboo dance is a popular activity in villages. Bamboos with red silk floss are used during dancing. Boys move bamboos to make music while girls in silkworm flower dance among bamboos.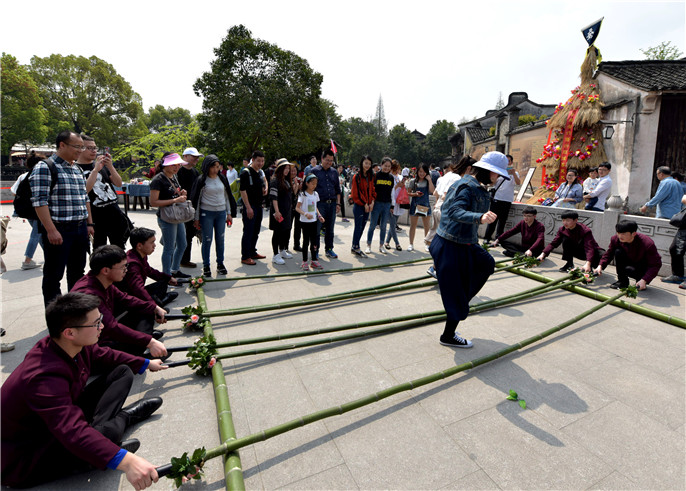 Variety Entertainment Show

Temple fair is a great time to have fun. Performers around Wuzhen swarm into temple fair and all the traditional shows go on, such as puppet shows, magic shows, kongfu shows and monkey tricks. People come to the temple fair to buy and sell goods, watch the performances, and taste snacks.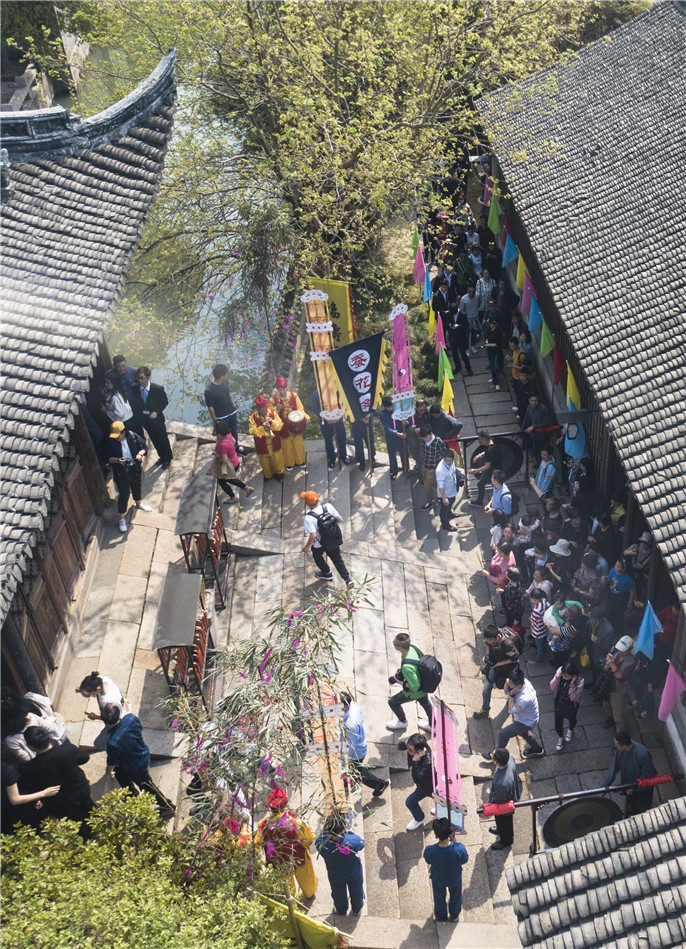 Bamboo Pole Performance on Boat
Bamboo pole boat is also called silkworm boat and the performance on boat is one of the popular activities in Jiangnan (the south of Yangtze River Delta) during temple fair.
During the performance, a folk artists in white clothes climbs from the bottom of the bamboo pole to the top and do some amazing performance in the air. It just like silkworm climbs up to straw hill to make cocoon. It is a rite celebrating the harvest of cocoon.
Martial Arts Performance on Boat
The water transportation of Wuzhen was very flourishing, so the robbers were coming by water. The local people practice martial arts on boat to build up their bodies and repel the robbers.
From the early 20th, Martial Arts Performance on Boat is becoming one of the activities during temple fair. Today, the martial arts performance boat has no function of repelling robbers any more, but practice martial arts on the boat as a traditional activity is still remained.
Fire-fighting Drill
The houses in Wuzhen are made of wood and brick, so Wuzhen people pay more attention to fire prevention. Every year Wuzhen holds two fire-fighting drills in spring and autumn. The tools and uniforms of fire-fighting are handed down from later Qing dynasty. They are divided into two groups, and they compete for skill and speed in the accompaniment of cymbal and drum and crying.
Traditional Wedding Ceremony on Water
March is a good time for holding wedding ceremony in village.
Wedding ceremony in Wuzhen is held on water. Groom always drives boat to welcome bride whose head is covered by a red veil. When they come ashore from the boat, bride is taken by somebody to the bridal sedan chair. Sitting in the bridal sedan chair bride goes to the groom's home. It is bustling with noise, excitement and happiness.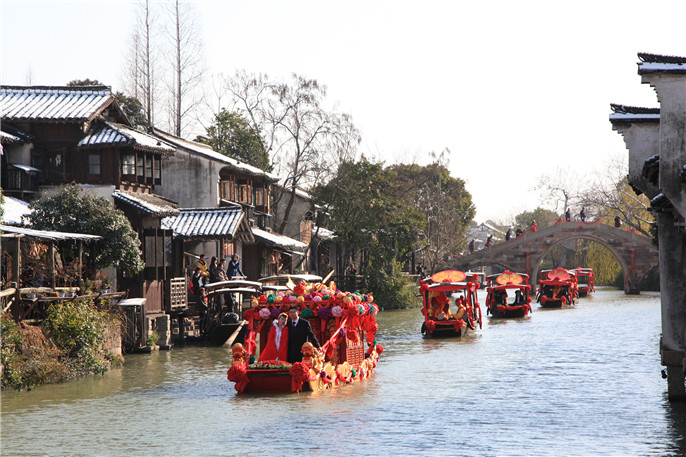 Keyword:
---