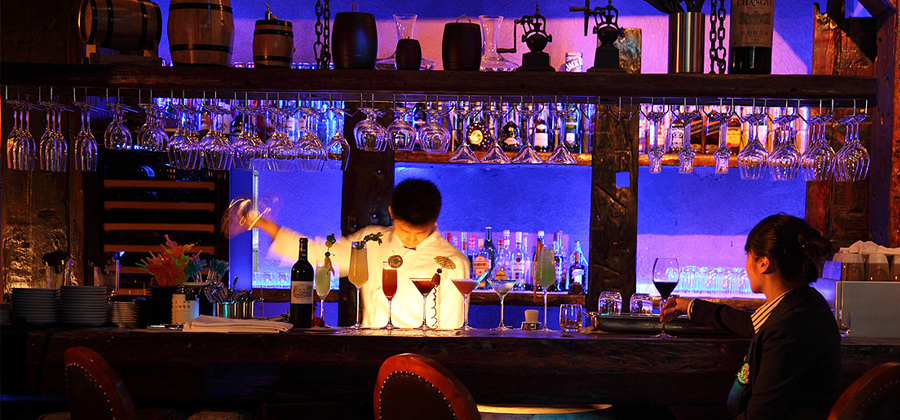 Ripples
Ripples is a professional wine bar decorated to the theme of a popular Chinese television show "Time Passes Like Flowing Water" (Si Shui Nian Hua), offering a collection of quality wines from more than 10 countries around the world, which brings unique taste for guests. It has a bright hall suitable for parties, the quiet private rooms and also two riverside halls, Wuzhen and Taiwan, embracing a unique environment for wine. You can walk on the deck of Ship No.3/4 along the river with a glass of wine to feel the comfortable water town.
Wine is a way of life, a culture, something elegant and romantic. Ripples not only serve fine wine, but also is a place for enthusiasts to share the rich history of wine and enjoy a sophisticated multi-cultural environment.
Recommended fine wine: Philipponnat Brut Reserve Rosee, Chateau Lascombes, Tenuta San Guido-Sassicaia, Domaine Vincent Girardin Meursault VV Blanc, Wuzhen Autumn (Cocktail)
Business hours: 14:30-24:00
Address: No. 28 Xiushuilang Street
Telephone Number: 0573-88730598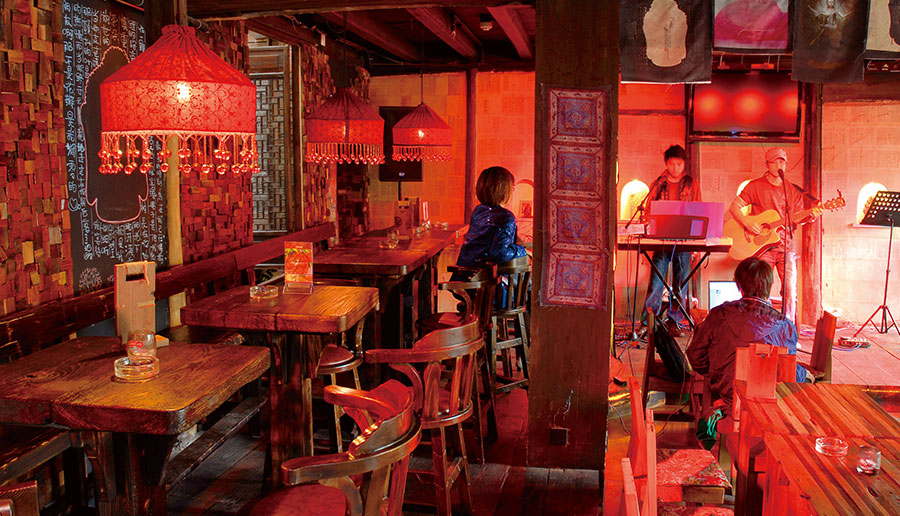 Wubaihui Bar
A Buddha said that a glance of five hundred times in the past life only exchanges for one meet in this life. Wubaihui Bar is like a green lotus in front of the Buddha, waiting quietly beside the most beautiful bridge in Wuzhen. The old wooden tables and chairs in the rough and rustic boat are engraved with the wind marks of the distant sea. The afternoon time in the pot of Wuzhen is transformed into a sleepy hangover. You can be in a daze in a waterside platform, stay in the attic by the window of the sofa to watch the people walking on the bridge, and slightly touch the old wooden boat, then all the miscellaneous thoughts will be gone. At that moment, you will feel the universe clear and flowers blossoming.
When the moon floats down the bridge and the graceful and emotional blues music by singers in hoarse voice, this is a good place to have a drink with your loved ones.
The Buddha says: everything begins fate!
Perhaps you should believe that you will remember the previous life of your loved person and your story here.
So if he or she is under the bridge you will pass, will you come?
Recommended foods: Italian cuisine, grilled cowboy bone with volcanic rock, American sirloin steak, US prime rib eye, spaghetti, pizza, coffee
Business hours: 14:00-24:00
Address: No. 28 Bailian Street
Telephone Number: 0573-88730966
Lotus Lounge
Lotus Lounge is the only photography theme restaurant in Xizha Scenic Area in Wuzhen and is located at Xiushuilang Street, Xishi River, Xizha. It specializes in coffee, desserts, drinks, cocktail, Chinese and Western quick meals. Southeast Asia handicrafts and antique furniture are displayed throughout the store. Behind the open restaurant is the gallery of photography for you to visit or buy if you like. Far away from the boisterous street of bars you can enjoy the slow music and the beautiful Xiushuilang River at night.
It has organized various events for many companies, art units and individuals. Lotus Lounge provides warm and welcoming services, unique foods, and a strong artistic atmosphere, so that every guest can feel at home. Since its opening two years ago, it has been highly praised by many tourists at home and abroad.
Lotus Lounge organizes cultural and art events from time to time, and provides corporate events and private party booking services.
Business hours: 13:00-24:00
Address: No. 8 Xiushuilang Street
Telephone Number: 0573-88730788
Email:lotuslounge.cn@gmail.com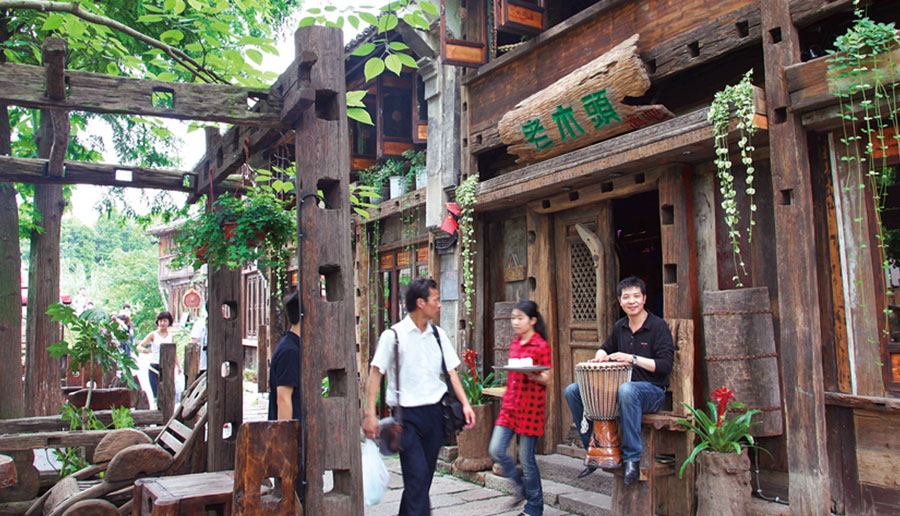 Oldwood Village
Embracing lakes, the theme bar Oldwood Village was built with old wood, so the trees on the roadside are also its open-air dining chairs which are decorated with beautiful clothes as your comfortable lazyback. Stepping into the door of the wooden ship, you will see bar counters and bar chairs with the original ecological decoration, rough but delicate. Following the principle of being simple and environmental, the bar perfectly combines the classical beauty and modern romanticism. There is also a dance hall to let you release the passion after peace. The bar serves tea, coffee, drinks and business packages, and caters for all kinds of banquets and performances. The music is mainly in mood and rock style, so that every guest can enjoy the infinite charm of music and ancient town.
Recommended foods: Western-style business package with various flavors, special barbecue
Business hours: 14:00-24:00
Address: No. 21 Bailian Street
Telephone Number: 15990380216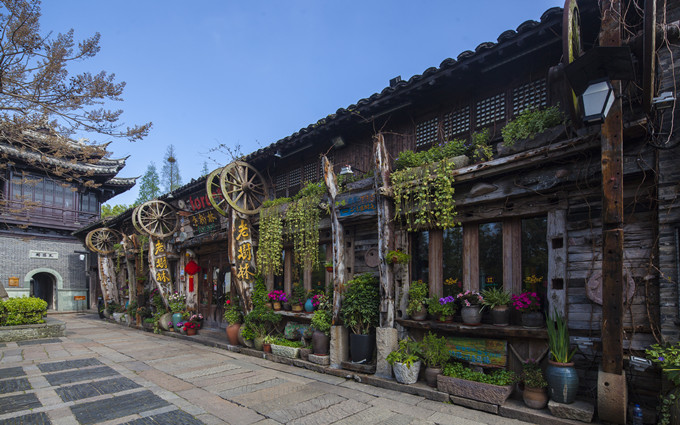 Forest Performance Bar

Forest Performance Bar is a bar to "feel the breath and enjoy life," and is in harmony with nature.

Located in No. 41, Bailian Street, Xizha, it is the only livehouse in the spot, and invites famous musicians at home and abroad to give live performances from time to time.

Under the premise of inheriting tradition and based on the natural environment, it incorporates fashionable elements to create a unique aesthetic culture and operation model that Wuzhen bars has never had before to let the guests feel the tolerance and freshness from nature in a convenient, comfortable, warm, intimate and safe leisure environment.

Features underfloor heating and central air-conditioning, the bar has the top performance sound system, the first class fancy cocktail mixing performance, the excellent on-site band, plus the interactivity game interpenetration, the unscheduled live performance by domestic and foreign famous musicians, making the visitors to Wuzhen to feel the full enthusiasm of the Jiangnan ancient town!

In-store recommendation: special cocktail by Chief bartender Sheree, and performances by famous musicians at home and abroad occasionally

Reservation phone: 15605828327

Business hours: 14:00-24:00

Keyword:Activities,bar