On June 7, 2017, drama Hurricane will be performed in Wuzhen Grand Theatre for public good. It is sponsored by Wuzhen Tourism Co., Ltd. and Culture Wuzhen Co., Ltd., supported by the National Theatre of China, Shanghai Theatre Academy, and Modern Drama Valley in Jing'an District of Shanghai, and directed by Tian Qinxin, a female director with the National Theatre of China. It is another work directed by Tian Qinxin after Under the Hawthorn Tree. By offering such a drama, Wuzhen means to spread drama culture and shoulder its social responsibility of cultural revival.
Cultural Blending and Thriving
As a historical town with multiple cultural elements, Wuzhen has attracted home and foreign tourists and art lovers to exchange ideas. The launch of the first Wuzhen Theater Festival in 2013 marked an important step for the town to revive its cultural landscape. Subsequently, the Young Artist Residence and Wuzhen Drama Incubation Base made the town a cradle of cultural output. Various high-level cultural projects, such as the World Internet Conference, the Art Wuzhen, and Muxin Art Museum, are enriching the cultural scene of Wuzhen. In 2017, the band Good Meimei performed a close-door creation of the album Real-name System in Wuzhen, marking the marriage between the cultural Wuzhen and music field.
Drama Platform for Cultural Cooperation
Drama is a name card of Wuzhen, where drama resources are abundant. The cultural town exists as a unique studio for dramatists to create works. The town is home to 13 hotels with different styles, such as local guesthouses, youth hostels, star-rated resorts and high-end hotels, which together offer 1,500-plus rooms capable of accommodating nearly 3,000 people. These facilities ensure adequate accommodation and transportation conditions for drama creation teams, professional production teams, theater management personnel and theater technicians, making smooth creation of dramas possible. Here you can find seven indoor theaters of different functions and varied sizes, a large outdoor theater and countless open spaces for performance, constituting a complete performance venue system.
As such, Wuzhen has become a platform for artists to create and rehearse drama works, thus promoting and enriching local cultural and creative industries. The rehearsal of the youth version of Hurricane is the further cooperation of director Tian Qinxin and Wuzhen.
Full of passion, the youth version of drama Hurricane
To pay tribute to the 110th anniversary of the birth of Chinese drama, Tian Qinxin rehearsed Hurricane 16 years after its creation. The drama tells the story of the early years of Tian Han, who wrote the lyric of Chinese national anthem. The play uses the artistic technique of "drama-within-drama" to integrate the love stories of Tian Han and his four lovers with his plays, such as Japanese Opera, Salome, Unanimous, Guan Hanqing and White Snake, alternating time and space and the reality and fantasy. The drama shows the less-known private life of Tian Han and reveals the development history of Chinese drama.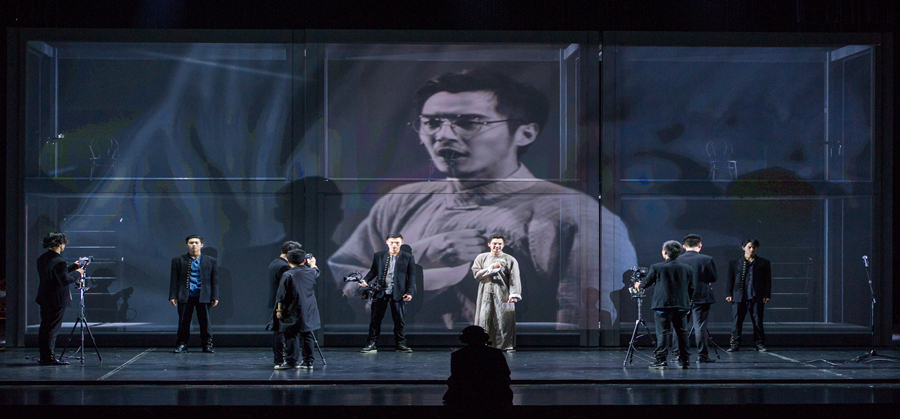 The cast of the youth version of Hurricane is mainly young artists born after 1995, mostly students of the Shanghai Theatre Academy. Jin Shijia, who acts Tian Han, is a popular film and television actor and has played Go for it, the Prince Tennis, iPartment 4, My Amazing Bride, Cosmetology High and other works. The play uses new visual effects, and makes full use of multimedia technology to reflect modernity, creating a stage effect of time and space separation and a film-like visual effect.

Keyword:Tian Qinxin,Hurricane
---
Enrollment consultation Download